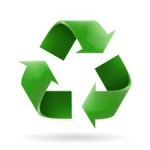 From 17-23 June 2013 it's Recycle Week!
This special week has been held since 2004 and its mission has been to encourage us to recycle more. As we all know, recycling is very important for the environment and we need to reduce, reuse and recycle.

Recycle Week 2013 starts today June 17th with a 'recycle at home and away' theme.
This covers packaging, metals, plastics, textiles and food waste collections. Free ideas and information for consumers is available from www.recyclenow.com including a postcode locator to enable people to check what they can recycle in their area.

Over the past decade, the UK has recycled an astonishing 50 billion plastic drinks bottles – enough, laid end-to-end, to stretch to the moon and back more than 10 times over!
This is just one of impressive facts to come to light as Recycle Week - the national event to encourage more people to recycle more things more often - celebrates its 10th anniversary.
During the same period, local authority recycling schemes across the UK have collected materials like card, paper, plastic and glass worth a staggering £2.4 billion.

Many of us recycle at home, but how many of us recylce at work?

Looking after our planet is super important and while many homes in the UK recycle, many workplaces do not! This year lets try and go that extra mile in being eco friendly!

With this in mind here's a few simple ideas to help recycle more at work:

• Set up a company scheme - good communication is vital so inform all staff of any plans and why they are important. Ideas should be welcomed from staff at all levels and feedback should be efficiently communicated. Keep everyone informed of the company's progress.
• Switch to recycled paper - your supplier should be able to offer a 100% 'post consumer waste', laser guaranteed paper. Although this is sometimes more expensive, extra costs can be reduced by lowering paper consumption.
• Reduce paper use and recycle waste paper - approximately 60% of waste produced by the financial sector is paper waste. You can halve paper use by printing all documents on both sides, saving paper and money. When replacing printers and copiers ensure new equipment has a duplex facility and make this office policy. Only print when it is necessary.
• Scrap paper will inevitably be produced in the workplace, but rather than discarding it, use it to write notes and reminders on before recycling it. Re-use envelopes even if they're only for internal mail.
• Use real mugs instead of plastic cups - rather than supplying disposable plastic cups and plates in your workplace, use real mugs and plates that can be reused again and again. If you have a vending machine, try to replace it with one which takes real cups.
• Recycle cardboard - provide facilities in the workplace for cardboard separation. This can then be sent for recycling. Alternatively, any cardboard boxes could be re-used for sending bulk orders, or merely for storage.
• Computer recycling - try updating and refurbishing computers rather than throwing them away. This reduces waste, as well as preventing the production of a replacement machine (a process which creates more than double the weight of the machinery in waste). Donate computers to charities. There are a number which take computer equipment for export to poorer communities. Set up a take-back scheme when you buy new computers to ensure your old ones are recycled. If you are a large IT consumer consider insisting that your supplier takes back your old equipment for recycling as part of a new installation.
• Refill or recycle printer cartridges - remanufactured cartridges are available locally for most printers. Many are certified by the original manufacturers, are cheaper and avoid substantial plastic waste. Some local suppliers replace cartridges and collect the empties for recycling.
• Use rechargeable batteries and set up recycling points - buying and reusing rechargeable batteries not only saves you money, but reduces waste.
• Set up recycling stations - if your workplace still has rubbish bins under each desk, it is too easy to throw things away. Remove these rubbish bins and replace them with communal recycling bins and a rubbish bin located in convenient areas. This will also make cleaning your workplace more efficient as there will be less bins to empty. Discuss this with your cleaners and include the collection and delivery of separated recyclables in your cleaning contract.
• Run a waste audit - find out exactly what type of rubbish your workplace generates by completing a waste audit. This will also indicate if certain areas generate more waste than others. You can run a waste audit yourself or contract a company to do this for you.