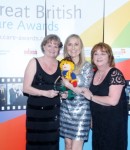 Great British Home Care Awards 2013
On Saturday 22nd June at the Grosvenor House Hotel, London provided a spectacular backdrop for the national finals of the Great British Home Care Awards where the fourteen category winners were announced.
SVT's International Corporate Manager and one of the Directors of SVT Care Ltd Mark Avison was there at the gala awards night to soak up the atmosphere and witness this key event in the Care Industry.
The Great British Home Care Awards, hosted by Ceretas are the national finals from the series of nine regional Great British Care Awards in Autumn 2012. Winners from each region were invited to compete once again to become the national champions.
Sector support includes the Department of Health, the Association of Directors of Adult Social Services (ADASS), the Social Care Institute for Excellence (SCIE), the National Skills Academy for Social Care, Ceretas, local authority support and commercial organisations are also supporting the awards.
There were a total of fourteen award categories available for nomination, which represent all areas of the care sector, whether it be older people or specialist services and from frontline staff such as care workers and care managers to people who have made an impact in other ways such as training, and specialist care in areas such as dementia and innovation.
The gala awards evening started in style with a champagne reception, followed by a superb gourmet dinner with some surprise entertainment throughout. The awards were presented by TV presenter and care advocate Fiona Phillips and the evening concluded with music from a live band and dancing into the night.
Lisa Carr, Director of the Great British Care Awards said of the event:
"This is just the fourth year we have held the national finals and we have been overwhelmed by the enthusiasm from our industry. The quality of the finalists from across the country and throughout the sector was extremely high and the judges have had the unenviable task of choosing an overall winner for each category – a true national champion. The awards offer a unique opportunity to celebrate the successes of individuals, teams and businesses throughout the UK - people who really do make a positive impact on people's lives. During these testing economic times social care has once again suffered the impact of associated adversity – the awards are a positive way of raising motivation within our social care workforce and indeed the profile of the sector as a whole. The evening has been truly exhilarating; everyone here tonight is a winner."

For more info on these awards and other events please visit: www.care-awards.co.uk/