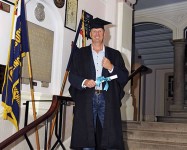 Graduation 2014 will be held in October next year...

This is our 5th Graduation presentation that is offered to all successful candidates. The event has a high attendance so with this in mind students are asked to let us know early if they wish to attend.

You will have the opportunity to meet fellow Graduates and have your photo taken in cap and gown.

Presentations for the 2014 event will be made again by representatives from the Institution of Occupational Safety & Health (IOSH) and a representative from City & Guilds.

This year will see guest speaker Mr Paul Bell Grad IOSH, Dip RSA. MCMI. MSOFHT. MANLP who in the last several years has worked globally delivering management and accredited safety compliance training in the MENA regions and in particular working in Laos PDR on behalf of UNIDO to improve tourist safety in the Luang Prabang province.

Paul's presentations are known to be informative and are always delivered in a witty and engaging manner!

Venue and date will be published shortly...