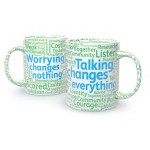 It's time to talk about dementia
We're all living longer. That means we're all facing a higher risk of one day developing dementia. It may be you. Or it may be someone in your family.

But what can you do about it? How do you recognise the signs? And how will you cope if you or someone close to you develops dementia? One thing's certain. The more we know about dementia, the more prepared we'll be to face it.

So, find out more and join the conversation this Dementia Awareness Week 19 - 25 May 2013.
Go to alzheimers.org.uk/talkdementia for more information.