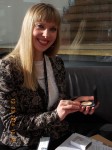 17th March '14 Update.
On the 12th March, I took a visit to Stockton-on-Tees to see the lovely Ruth. I was on my way to visit a candidate in Newcastle but needed to do a detour so that I was able to hand deliver Ruth's Medal of Excellence directly to her!
So on a foggy but sunny day – I drove to see Ruth and presented her with her certificate from City & Guilds, her Medal of Excellence and a bouquet of flowers from SVT Ltd. I can safely say that Ruth was over the moon with all this and is very much looking forward to the main Lion's Award hosted by City & Guilds in London in June.

On behalf of SVT Ltd, I would like to wish Ruth the very best of luck with that – you truly are well deserving of one of these awards.


4th March 2014 UPDATE!
To continue with this lovely story……….

I then went on to nominate Ruth for a 'Medal of Excellence' award that City & Guilds award each year. Successful winners are then selected to attend the Lions Awards hosted by City & Guilds – the most prestigious awards ceremony that they hold. This has been running for over 100 years.

The Awards ceremony recognises and celebrates the success of the learners and the tutors. The red carpet ceremony is held at the Roundhouse in London in June.

There are 14 categories of awards, Ruth was nominated for the "Outstanding Achiever of the Year" award due to her commitment in her working role and also in her new project where she wants to open up a children's home. After many trials and tribulations, Ruth has now been granted planning permission to start work on this wonderful project.
Watch this space...

20th December 2013 STOP PRESS!

We are delighted to announce that our nominee, Ruth Farnaby, has been awarded a City & Guilds Medal for Excellence in recognition of her outstanding performance in Level 5 Diploma in Leadership for Health and Social Care and Children and Young People's Services - Children and Young People's Management (England).

Introduction.

After working with Ruth Farnaby on her Level 5 Diploma in Leadership for Health & Social Care (children's management) – I decided to nominate Ruth for the Dignity in Care award.

Ruth certainly gave me a run for my money – she worked hard and well on completing her reflective accounts in record time, even working on them while she was off work with illness.

The Dignity in Care Awards is awarded to the individual who can demonstrate the significance of maximising server user independence and choice, whilst respecting and maintaining privacy and dignity at all times.

After reading Ruth's reflective accounts, meeting her and completing her observations, I have to say that I felt Ruth was very deserving of this award. She works to a very high standard, gives each project she works on her full individual attention, she ensures that she treats her service users with compassion, dignity and respect.

Ruth was shortlisted as a finalist for this award and had to have a telephone interview conducted with a panel of judges. The results were announced on the night of the awards, sadly Ruth didn't win – I still feel that she was very deserving of the award.
Joe Pope, Lead Assessor for Health and Social Care