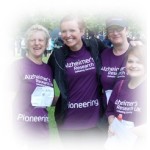 I have been on my travels again but not in the assessing capacity, but to spend my Sunday travelling to Cambridge to participate in the 10k walk organised by the Alzheimer's Research UK defeating Dementia Charity. My day began at 5.30 by eating my Kellogg's, listening to the birds singing whilst thinking of the 2.5 hour drive ahead of me.

My colleagues decided to travel on Saturday and camped overnight and we planned to meet up at the Milton Park at Cambridge for 9.30 am as start time for the walk was 10.am. After a busy time in the office all week preparing portfolio's for audit by the External Quality Assessor, along with assessing learners work and conducting several Inductions for new learners this really was going to be a walk in park! Being a keen walker who enjoys supporting charities and also organising my own events to raise money for charity I was looking forward to it and didn't give the 300 mile return journey a thought! Some people took their pets so they could wear their rosette with pride whilst others preferred to take part in fancy dress which added to the fun too. The weather stayed good and the sun shone through as I walked and chatted away with others discovering why they were taking part. Some had members of family and friends who lived with dementia and they were doing their bit to support the charity. I was asked what the connection was for me and why I travelled from Grimsby to Cambridge. I mentioned that I was working for a training company called SVT who specialise in training courses for the Health Care sector and Dementia Awareness both Credited and non-credited amongst many of the courses we offer. I explained I am a Health and Social Care QCF Assessor and some people who have family members and friends have been interested in the dementia awareness course to enable them to have an understanding of the disease which is affecting their loved ones.
My colleagues and I also had the opportunity to mix with the famous Dr Pixie McKenna (pictured above with my colleagues Joe Pope and Santa Mihailova) who also supports this charity and took part in the 10k walk among with 500 others, Organisers were hoping that the 'Big Walk' would raise £45,000 for dementia research which would contribute to funding an entire pilot project.
We come to the end of the walk, spending an hour to enjoy the other activities and a coffee before preparing for the journey home. A perfect end to a lovely day!

I haven't had the opportunity to visit Cambridge before so this was new territory for me but I do have some learners who are completing their Level 3 Health and Social Care award living and working in the Cambridge area so I will have the chance to revisit this area again.
A big THANK YOU to all who sponsored me to help raise monies for this cause.

Jo Towse