Held at the Grimsby Town Hall on the 18th of October 2011, students from all over the UK, who successfully completed their Diploma NVQ's in Occupational Health and Safety attended.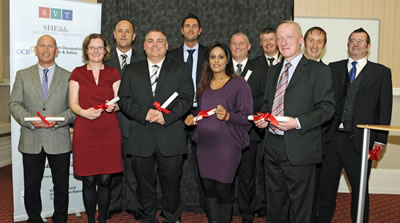 Supported by family and friends, the students were presented with their certificates by Anne Tate from the Hull & Humber Chamber of Commerce. Anne Tate said: "Candidates that achieve NVQ Level 5 in such a sort-after discipline as Occupational Health & Safety are without doubt increasing their career prospects. It was a pleasure and an honour to present them with their certificates. Congratulations to them and also to Sheilds Vocational Training on getting so many candidates through their training to achieve this high level qualification"
Guest speakers at the event included Mike Watson, Chairman of SVT who spoke of the benefits for practitioners joining IOSH (Institute of Occupational Safety & Health).
Complimented with a buffet and Champagne toast, the event proved an excellent opportunity for the candidates to network and discuss issues relating to Health & Safety.
Mandy Pickard, Managing Director of SVT has announced the next award ceremony will be held in the spring and twice yearly thereafter. Mandy went on to say: "We have hundreds of students who have completed their qualifications with us over the years, and we thought it was appropriate to mark their achievements more formally by holding an event such as this."