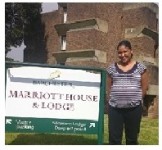 A day in the life of an assessor continued……………………..
My previous write up was about when I travelled to the Birmingham area and related to visiting my learners to assess and observe their occupational competence in the workplace. At the end of Last month (April) I travelled to the London area to assess two more of my candidates who are working towards completing their Level 3 Diploma in Health and Social Care.
I have learners from one end of the country to the other so travelling has to be carefully planned to incorporate multiple visits to observe learners within close proximity of each other.
This was the first time I have travelled to London on my own and for using the underground! So I had to make sure I got on the right train and followed the directions closely, as one of my learners works 20 miles from the main station and timing had to be precise to keep to my schedule. So I felt a little bit like Huckleberry Finn going on my adventures!
Someone once said to me "I wish I had your job sitting in an office all day, regular hours 9-5 and hopping on a train now and again to get away for the day, and doing a bit of shopping while you there"! I often reflect on that comment as I suppose that's how they saw the job but the whole role of an assessor has a lot more to it than that! So I just smile to myself and carry on with my busy schedule and hop on the train for my second observation; visit time being 3.30pm and having been up since 5.00am to catch the first train at 6.33am, I don't think I will have much time for shopping!!
So don't be under the illusion that an Assessor travels all day in the sunshine and admires the scenery, as there is some time consuming planning which goes into arranging the observations. Being away from the office for more than a day, leading up to 3 days depending upon the final destination, means I still take time to assess the work of my other learners. This is where I use my time management skills and write the observation reports whilst sitting on the train in-between journeys and sometimes when settled in the hotel. So this can make the days long; often catching the train really early and then not arriving at the hotel till 7pm or later. At the end of the long day the hotel room is always inviting along with a nice relaxing shower before finishing writing up my reports.
My visit this time was to assess one of my learners as she was going on maternity leave. Attached is a photo of Sabrina outside her workplace.
I have had the experience of meeting some nice people on my travels. I enjoy meeting my learners and observing the delivery of care and seeing the maintenance of good standards. It is a rewarding job despite the pressures on the health care workers.
to be continued……
Jo Towse
Assessor Health and Social Care