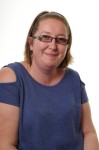 I first joined SVT In January of this year after finding out at the beginning of December that I was being made redundant. My best Christmas present was finding out that I was successful and had the job of Lead Administrator with SVT.
I have over 17 years experience working in an Educational Environment, I joined SVT in the second week of January and I can honestly say I haven't had a quiet moment since. My role is to support the assessors and the learners in all of the courses we offer, Health and Safety, Health and Social Care, Management, CMI and NEBOSH.
The SVT Team made me feel very welcome and helped me settle into my role for which I am very grateful. It is a demanding role and I am always busy, but it is a role I enjoy, which I feel makes my job a lot easier. I wear different hats within my role whether it is assisting learners, helping an assessor, organising and invigilating exams or even helping to plan a Graduation Ceremony. I did all of these things in my first 3 months. These different hats keep me very busy but make my job enjoyable and rewarding whilst improving the online learning experience for our customers. I have definitely needed all the skills I have gained over my working life and have added to this skill set.
My job is rewarding as I assist the learners at the start of their journey, welcoming them to SVT and sending them their log on details for our online learning portal. I am there to assist them throughout their course whether with admin or assisting them with technical issues and sometimes I am there to offer a little encouragement as well. The most rewarding part of my job is at the end of a learner's journey. I am responsible for claiming a learner's certificates when they have achieved their qualification and liaising with them about their success. When learners express their thanks for the support they have received throughout their course from their assessors and the team, or express how happy they are that they have completed their course, it is fantastic news for the SVT Team.
My role within the SVT Team is also to assist the assessors and the other members of the team where I can, it is very demanding and I hear "when you have a minute" a lot but I always find that minute so that I can do what is being asked of me.
So to sum up my first 3 months with SVT, I joined an extremely hard working, dedicated and welcoming team, I have a job and role that I enjoy in a field I enjoy working in and I find working in the online learning industry very rewarding.
Jennifer Davison
Chief Administrator