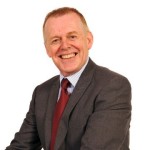 Time passes so quickly.
It seems like only yesterday that I joined SVT as an NVQ Course Advisor
My wife, Sharon and I moved back to sunny Cleethorpes (home) in 2013 after living and running a business in Financial Services in West Yorkshire for 23 years. Both Sharon and I took time out of work to care for my mother who unfortunately fell victim to Dementia. We cared for her in our home for a year until she was eventually taken into full time care at a local nursing home. My Mam, bless her, is now 90 years of age.
I could not just sit on my backside, so I started looking for work locally. I spotted an advert for a 'Course Advisor' at SVT whilst trawling my emails one day and applied for the position. I was notified to attend an interview by the young Administrator at the time, Santa. (I thought it was an early Christmas present).
Following two interviews with Mandy and Margaret, I was offered the position of Course Advisor. At the time, I knew nothing about the courses on offer at SVT but was quickly initiated into the world of Health & Safety and Health & Social Care NVQ's. I joined the established team of Course Advisors, Mark Avison and Tom Freer. Tom however, was in the process of leaving to go on a back packing Far Eastern walkabout and promptly left 2 weeks later. (Nice knowing you Tom)
After a short holiday in late June of that year (it was booked before I joined SVT), I returned to work. Thinking I would just slot back in to learn more about my role, I was greeted by the newly appointed Commercial Director, Tim Watson, who then ensued to implement, like a whirlwind, new sales processes, marketing and re-organisation etc. (Thanks Tim. It was an interesting time)
Having settled in to the role, over the next year I started to work on developing our business in the Middle East, which was unknown territory to me really. During that period, the 'feisty' Abi Jones joined the 'Course Advisory' team. (Welcome Abi)
After early difficulties, particularly with language barriers and partially my hard of hearing (in joke), business in the Middle East went from strength to strength. I have thoroughly enjoyed bringing on and developing business contacts throughout the region, particularly in UAE, Qatar and Saudi Arabia. Indeed, I would like to say that I have made some good friends along the way, Titus Oluwafemi and Greg Olugbenga Ojeaga to name two.
In fact, Titus and his colleague Saji, flew in from Qatar earlier this year to collect their City & Guilds NVQ Level 5 Health & Safety Diplomas at our Annual Graduation Ceremony which was held in Grimsby at the Town Hall. It was great to see many of our Students collecting their hard-earned Diplomas. Myself, Titus and Saji then celebrated with a few drinks later that evening at some of the local haunts in Cleethorpes. It is fair to say that a good time was had by all. (Titus is now a fully-fledged Grimsby Town fan)
Working at SVT has given me a new lease of life and I thoroughly enjoy working with a great team. The company has a genuine work ethic and ethos and I look forward to many more years here before I am put out to grass.
Philip Jewitt - SVT UK Sales Manager