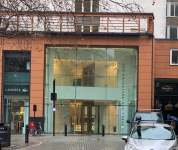 We had posted a couple of months back on our social media platforms that one of our staff members was relocating to embark on a new adventure due to the expansion of SVT.
We are excited to announce the opening of our London office, SVT London has now landed. It's in such a lovely location in the heart of Knightsbridge with the famous Harrods just across the road. I think someones bank balance is going to be in trouble on those lunch breaks.
Our new London office address and contact details are:
SVT Ltd
One Knightsbridge Green
London
SW1X 7QA
Tel: (0)208 146 5680
We have been working long and hard at SVT HQ. We have many more exiciting things coming your way throughout the year so stay stuned for announcements.