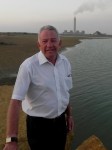 David was a close friend of mine. He died late in 2015 in a car crash as he was heading for his place of work in Saudi. His two work colleagues survived but were badly injured in the crash. David was just 63 years old. To say it was a sad event for those who knew him would be a great under statement. He was my closest friend and I count my friends on one hand. I miss him but as I write this I am remembering him as he was, he was a generous and very likeable man who was dedicated to his family and his profession of Occupational Health & Safety. He had a fantastic sense of humour and had a joke for every everyone who needed a smile. I have seen him give a person his coat who was cold and told them to keep it as he had many coats. I have seen him give a poorer person money when they were in need.
I first met David in 1992 some 23 years ago. I was delivering a CIEH Risk Assessment course with about 10 students in the classroom. David joined the class late, he was often late for most things. I was at the time he walked in to the classroom explaining a tragic accident that had happened at a re cycle and waste facility in Hull. The employee had been killed while he was operating a bailing machine. As I was talking to the class David sat down but almost immediately got back up and walked out.. He was covering his face with one hand I remember thinking that something was wrong, either with what I had said or what I was talking about. I suggested to the class that we took a break and I went after him to see if he was ok. He was just outside the door and he had been crying but was pulling himself together. He explained that the person I was talking about was his brother and he was joining the course to learn more about safety at work. I was horrified of course and apologised. He said he was okay and wanted to re join the class after a cup of coffee. David finished the two day course and completed his assignment and was awarded a distinction. That was David he was a true professional and dedicated to learning and using his knowledge to reducing risk at wherever he worked.David had a varied work background. He was a trained car mechanic, he sold kitchens and he worked within the health service.
After the risk assessment course David stayed behind and we went for a drink, this was the start of many an evening at the pub. David liked a pint or two and one of his best known sayings was that "one pint was not enough but two pints was too many". David could walk into a bar and within a short period of time he would be chatting to complete strangers and making friends.
During in the months after I first met David he attended every course I was delivering and alongside my colleague Steve Coulthard and friend Mick Shields, he set off to study Food Hygiene and Occupational Health & Safety. Each of them went on to study at a higher level gaining their Diplomas in each subject.
We started the so called Safety Club, just the four of us and would meet in pub every Friday to do our safety quiz. Each of us would bring a list of questions to throw out to the others. I can tell you that over that two year period the questions got harder and so did the laughter. We lived within a short walk of each other so the walk or stagger home was always eventful.
I was able to offer David and Mick a job at Humber Community Partnership. Both took a training and supervisory position. At that time I was doing my City & Guilds level four in Occupational Safety Practice and David would stay behind at the office to help me or just keep me company while I was writing scripts or preparing a classroom course. I also went on to start a voluntary safety advisory group called "Safety Matters" and David and I lead that initiative and worked on a voluntary basis for many local charity and not for profit organisations.
Later when I started with MS at the Health and Safety training company Ltd we employed David as an NVQ assessor and classroom trainer. David then went on to work and live in Dubai and then Pakistan and Saudi where he sadly lost his life .David was the only one of the original "Safety Club" who went onto a proper job in H&S working a power station as the Health & Safety Advisor and leading a team. I say a proper job because the remaining three of us continued running the business and training.
Over the 23 years I knew him we did fall out on two occasions but remained good friends throughout. He lost his wife to cancer which took a great deal out of him but he had his sons and later grandchildren to support him. He was a family man and extended his generosity to his family. David also raised a great deal of money for cancer charities over his life time. He was either walking across the Yorkshire Dales or more dramatically jumping off high rise buildings for sponsorship. He also supported me through a very stressful time in my life which lasted almost year.
I am not embarrassed to say that I cried at his funeral service. His sons and brother talked about David and remembered his as he was, a family man who would bring a smile or laughter to anyone he met. I miss him, I miss his phone calls, his joke texts his photos of his work and travel and his support in my life.
David once told me that the grass is only greener on the other side because its Astroturf and takes little looking after, mind you he said that One pint was not enough and two pints was too many. We often had more than two.
My regards to David's family and everyone who knew and loved him as I did.
Mike Watson CEO SVT Ltd Dip RSA CMIOSH MIIRSM FinLM