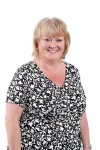 I started working for SVT in February 2004 as a part-time freelance NEBOSH support tutor working approximately 8 hours per week providing online support and guidance for candidates who were working towards their level 3 National General Certificate (NGC) in Occupational Safety and Health.
I had undertaken my own NGC with the local institute via the classroom route prior to taking on this role and I really enjoyed the qualification. After attending two evenings a week for 15 weeks I sat the exams and was delighted to gain a distinction. It took some doing though and I had to study hard doing practice questions every week to get me into the examination mind set. I was the only female in a class of 18 males and I worked at the time in a low risk environment, but I learnt a great deal from my fellow students who would regale stories of their places of work and issues relating to Health & Safety.
I was approached by Mike Watson, who is now SVT's chairman, who I had worked alongside in a previous role, to take on the NEBOSH support tutor role. I was only working 30 hours a week at the time for a community project, so the extra hours doing NEBOSH support fitted in nicely and it meant I got to keep my health and safety knowledge completely up-to-date.
I then decided to undertake the NVQ in Occupational Health and Safety, which at the time was a level 4, and I based my evidence on the work I did at the community project so we both benefitted from it.
Mike then approached me with the idea of becoming an assessor and I undertook the assessor qualification along with Mike and then once qualified, started working 20 hours a week and reduced my hours at the project. Eventually in November 2006 I left the project and started working full time for SVT.
I went on to take the Internal Verifier's qualification, which is now known as Internal Quality Assurance (IQA) and became the lead verifier for Health and Safety. This involves ensuring our External audits with people like City & Guilds go smoothly and that we remain compliant to maintain our Direct Claim Status with them.
I went on to manage the NVQ department and as part of my personal development I completed the ILM Level 5 NVQ Diploma in Management and Leadership, followed by the ILM Level 7 Diploma in Strategic Management & Leadership.
We decided to offer the Management NVQ's as online learning qualifications and we went on to gain accreditation with ILM. We now offer levels 3 through to 7 in Management and Leadership and I am the Lead IQA for ILM as well.
I have been fortunate enough to be involved in lots of developmental work over the years as the qualifications are reviewed frequently which means we have to update all of our course materials when they change and we have brought on new qualifications which I retain a quality role for in all areas.
Working for a training provider has given me the opportunity to develop myself in various ways and allowed me to work as part of the Senior Management Team. I have been able to travel throughout the UK when I was assessing and to Dubai on several occasions as the Lead IQA. I have met some great candidates and learnt an awful lot along the way and I still continue to do so.
I am grateful for the opportunities I have had whilst working at SVT and look forward to the future and all that it holds!
In the words of Mike Watson 'Be careful what you wish for……….'
Mandy Pickard
Accreditation Manager