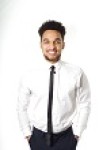 Due to my interest in sales, I was keen to find the right apprenticeship that would give me everything I've been looking for. Something that would give me a good introduction to what it feels like to be in sales, equip me with the right skills and give me a better understanding of how to sell. I then came across Specialist Vocational Training, a company that I wasn't familiar with and was looking forward to getting to know more.
On my first day at SVT I was apprehensive, going into a brand-new working environment with no idea what to expect was something I was nervous about, but also excited for. Not knowing in depth what the company did and how it ran, it was good to take everything in for the first time and try to get to grips as quickly as possible. I wrote a copious number of notes and got everything anyone said onto the nearest piece of paper in the hope that I would be able to come back and refer to it.
My first tasks weren't too daunting, just learning about the courses SVT provides, courses such as:
City & Guilds Health and Social Care NVQ Courses
City and Guilds NVQ Level 5 Diploma in Occupational Health and Safety Practice
ILM NVQ Level 7 Diploma in Strategic Management & Leadership
These were the courses I needed to learn the most and how candidates would go about completing them.
Not only this, but understanding the payment methods was important. Learning a 10% discount for paying in full and paying with instalments interest free. It was a lot to take in, but I was thrilled that I was doing something in life that I'm going to enjoy.
I have colleagues that are friendly and welcoming, knowing that I can rely on them whenever I'm stuck gives me confidence and although nobody is expecting much from me during my first couple of weeks, I am motivated to push myself and exceed my own, and everyone else's expectations.
Getting to know the job inside and out isn't going to be easy and will take a good amount of time. But I am driven and determined and have a mindset that screams success, with that, I plan to be the best I can be in a job that suits me best.
Morgan Elom, SVT